Illegal Waste Dumping Isn't Healthy
In aid of World Health Day (7 April) and Earth Day (22 April), and considering increased illegal waste dumping in the UK, we're spreading the word about the state of the UK's waste management endeavours.
With media concern over who will stop the country's waste dumping criminals and public discourse about our polluted waterways, now's the time to reinforce the importance of responsible waste management and make sure you engage fully insured licenced waste carriers.
"This is the moment to change it all — the business climate, the political climate, and how we take action on climate. Now is the time for the unstoppable courage to preserve and protect our health, our families, our livelihoods… together, we must Invest In Our Planet." – earthday.org
How polluted are UK waterways?
At the end of last year, it was reported that the House of Commons was considering amendments to the Environment Bill, which facilitates the improvement and protection of British waterways. And two national treasures under threat have been in the media spotlight.
The River Wye – flowing through mid and south Wales as well as Herefordshire and Gloucestershire – suffers excessive algae growth caused by high phosphate levels in the water. As well as run-off from local farms, the discharge of untreated sewage is a contributing factor to the river's pollution.
According to the Environment Agency, Combined Storm Overflows (CSOs) were used 400,000 times in the UK during 2020. And the Rivers Trust considers that 53% of rivers in England failing cleanliness tests is caused by contamination by untreated sewage from CSOs. In the same year, the Rivers Trust revealed that no river in England or Wales was in good overall health. And, like hazardous waste, these poor conditions threaten human safety as well as wildlife.
Both the Environment Agency and Natural Resources Wales have been held to account by Salmon & Trout Conservation for not carrying "out their functions as environmental guardians of this celebrated river with any real urgency or effect". Find out how to help save the River Wye.
Further down south, there's been outrage about Southern Water releasing raw sewage into Chichester Harbour, one of the UK's "most highly protected" marine environments. In August, the water company was fined £90m for dumping billions of litres of filth into waters on the south coast between 2010 and 2015. At the same time, Natural England revealed that 80% of the area's protected habitats were in decline.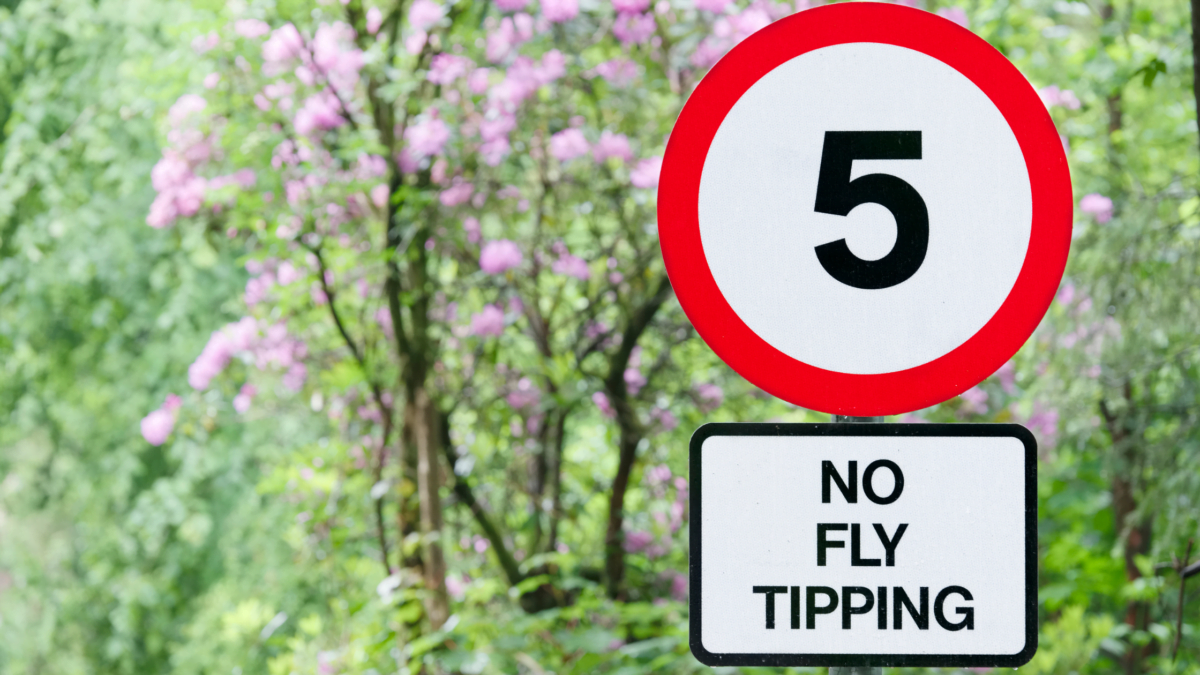 How is waste dumping impacting the environment?
Our waterways aren't the only place where hazardous waste's being dumped. In 2019, the cost of waste dumping in a Somerset quarry was estimated at around 9bn in remediation though the cost of leaching containments to environmental health was priceless.
Then, last year, we highlighted an Environmental Services Association (ESA) study that revealed the skyrocket of waste crime over the last three years mere months after highlighting the English fly-tipping pandemic that resulted from lockdown. And the issue's far from over:
"The illegal dumping of waste, much of it hazardous, most of it persistent, is now a massive crisis in the UK, caused by shocking failures of government. Large areas of land and crucial groundwater sources are being contaminated by illegal tipping, and barely anyone in power seems to give a damn." – George Monbiot, The Guardian.
Ray Purdy at Oxford University's law faculty and Mat Crocker, the former deputy director of waste at the Environment Agency, carried out a study into fly-tipping and unregistered waste carriers in England that revealed some interesting findings:
There's no facility on the Environment Agency's official register to report illegal waste dumping
Of 140,000 businesses that applied to be listed as waste handlers, the Environment Agency refused only 19
Despite widespread evidence of fraud and several prosecutions, the Environment Agency revoked just two registrations
It's estimated there are over a quarter of a million unregistered waste handlers in England.
Every year in England, 1m-6m tonnes of waste are handled outside the lawful system
Waste disposal is largely self-regulated, the checking process is tricky and – when the authorities prosecute – the punishments are weak fixed penalty notices. Take those guilty of illegally dumping clinical waste and other hazardous waste by the lorry load at sites in south Wales. Despite being one of the largest illegal waste dumping crimes prosecuted, they were ordered to pay back far less than the money they made. If that's the precedent, what's to deter them?
This leaves most people with little trust in the waste management industry. Why would people want to hire a waste management company to collect their hazardous waste if they could be cowboys that practice illegal waste dumping?
It's never been so important to check the credentials of anyone you hire to collect, remove or dispose of hazardous waste. Make sure they're fully insured and licenced to carry waste and they provide all the necessary waste transfer documentation. You should also check they practice safe and responsible waste disposal at the correct type of licensed disposal facility with legally required documentation to back this up.
Contact RJS Waste Oxford for responsible waste disposal
If you need fly-tipped waste collection, or the removal and disposal of hazardous waste, from a fully insured and licenced waste carrier then RJS Waste Management is here to help.
We also offer everything from safe bulk liquid waste collection and treatment to water testing services to contaminated land remediation. Contact RJS Waste Oxford, Chichester or London to talk to your closest team and have your waste dealt with safely, legally and efficiently.