London Asbestos Surveys and Hazardous Waste Removal
Whether you need an asbestos survey for your London home or you run a business and are looking for waste removal in London, RJS Waste Management UK is at hand to help. With more than 60 years' combined experience assessing, removing and disposing of hazardous waste, we are the capital's favourite when it comes to asbestos management and hazardous waste disposal.
We work with London construction companies, leading architects, housing associations, property management experts and facilities management companies to provide efficient and competitively priced waste management services. Working in all London boroughs and on projects of all sizes, we have served areas from Brentford and Barking to Tooting and Canning Town.
As well as dealing with hazardous waste – such as Asbestos Containing Materials (ACMs) that may have been fly-tipped – we offer WEEE recycling in London and data destruction services.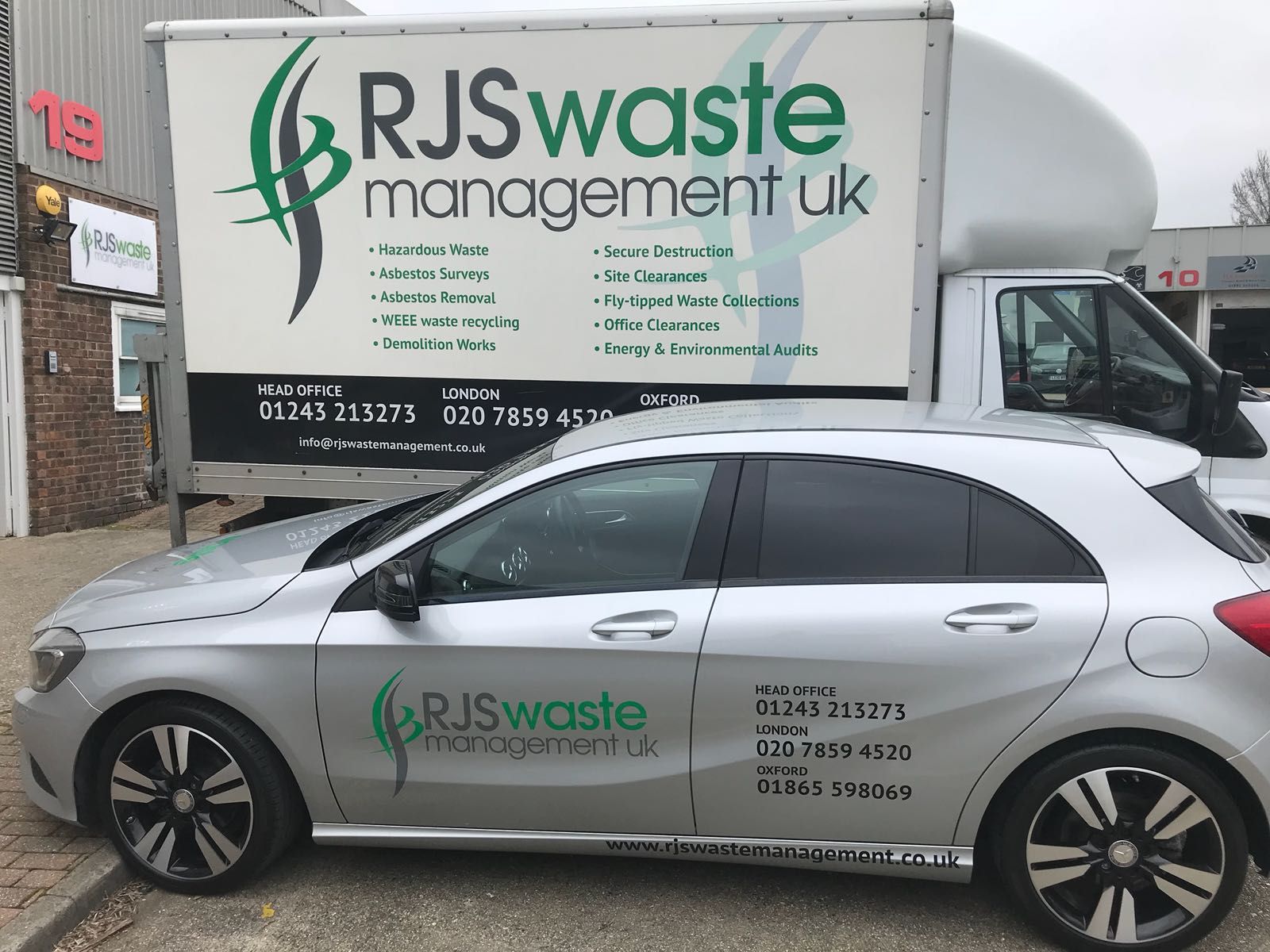 Do you own a commercial building built before 2000 in Central London with an asbestos register to maintain? Are you a Greater London homeowner planning a refurbishment project and need a refurbishment and demolition survey? If so, RJS Waste Management can help with your London asbestos survey.
If responsible for the maintenance of a non-domestic building, your organisation will be bound by the Control of Asbestos Regulations (CAR) 2012. Depending on your history with, and plans, for the property, you may need either an asbestos management survey or Asbestos Re-inspection Survey. If you are involved in a London demolition project, a refurbishment and demolition survey could reveal ACMs.
Your London asbestos survey report will reveal whether they are easily accessed and their integrity – i.e. how safe they are. You have a legal duty to manage the risk posed by any asbestos that is identified via the asbestos survey, which may involve asbestos removal or encapsulation, and we can help you with both.
All RJS Waste Management's London asbestos surveys are conducted by British Occupational Hygiene Society (BOHS) P402  certified asbestos surveyors. These will be in keeping with HSG264 Asbestos: The Survey Guide (2012) and HSG248 Asbestos: The Analysts' Guide for Sampling, Analysis and Clearance Procedures. See more about asbestos surveys in London and the home counties here. For more information on London asbestos survey costs, please get in touch.
Are you looking for commercial property asbestos removal in east London? Perhaps you need domestic asbestos removal in south London. Maybe you have a big City of London asbestos removal project on the cards. Whatever the specifics, you require an asbestos removal company located close by that can respond safely, efficiently and professionally to your asbestos waste needs. With offices in Islington, Greater London – as well as West Sussex and Oxfordshire – RJS Waste Management is well positioned to work with you.
After our BOHS P402 asbestos survey specialists identify any ACMs, our Asbestos Removal Contractors Association (ARCA) and UK Asbestos Training Association (UKATA) trained operatives are best placed to continue with the project. Whether your project involves asbestos garage roof removal or asbestos insulating board removal in London, we can handle the asbestos removal procedure from start to finish.
We will always carry this work out in accordance with all Health and Safety Executive (HSE) and hazardous waste regulations and make sure the process is hassle-free by staying communicative and transparent throughout. As well as being asbestos waste removal professionals, as an approved waste carrier (License No. CBDU58694), we will transport and dispose of your hazardous waste at a fully licenced facility. See more about London asbestos removal here.
As construction is key to its economy, England's capital city continues to grow. With this, we are seeing an increase in London demolition projects and soft strip works. RJS Waste Management can help with everything from site clearances and asbestos demolition surveys to hazardous waste removals and disposal.
No matter what your London demolition work, our skilled and experienced waste management team can advise, quote and deliver in accordance with the Building Act 1984 and the Construction (Design and Management) Regulations 2015. An RJS Waste contract manager will draw up a Risk Assessment and Method Statement (RAMS) and make sure a London asbestos demolition survey is completed.
Then, in line with CAR 2012 (regulation 7), any ACMs will be removed and disposed of before or during the demolition works. You can read more about our London demolition services here.
Client Testimonials
"RJS Waste Management carried out a refurbishment survey for one of our London residential projects, which they did in a timely and thorough fashion. I was very pleased with the service, which was very professional, and wouldn't hesitate to recommend them."
Contact Our London Office
To enquire about asbestos surveying and hazardous waste disposal enquiries in the London area please call the London office or email us using the contact form link below.
Suite 298
152-160 City Road
London
EC1V 2NX