RJS Waste Management Chichester, West Sussex
Asbestos surveys and asbestos removal in Chichester for commercial and domestic properties. Waste management services and health and safety courses across Sussex, Hampshire and Surrey too.
Chichester Waste Management Services – Hazardous Waste Removal and Waste Disposal
Providing waste management to Chichester businesses for over eight years, we specialise in asbestos surveys and asbestos removal in West Sussex. As well as providing hazardous waste services – such as Waste Electrical and Electronic Equipment (WEEE) recycling – we provide data destruction services and disposal routes for difficult non-hazardous waste.
Whether you are a Chichester business owner with a property built before 2000 or a construction worker or architect considering a demolition project in Chichester, RJS Waste Management UK is here to help.
Our health and safety training programme held at our head office in Chichester might also be of interest to you and your industry network. Do get in touch for more information or to request a quote or book a health and safety course.
We have worked with building companies such as Richard Jones Building and science product suppliers such as Alpha Laboratories Limited who say the following of our Chichester asbestos survey and waste management services:
"Richard Jones Building have used RJS on multiple projects. RJS are proactive in ensuring they undertake works to a high standard, which we believe to be essential when dealing with hazardous waste.
We have found RJS to be a pleasure to work with, and would highly recommend them to anyone looking to undertake Asbestos Surveys, Asbestos Removal and the other services RJS offer" – Richard Jones Building.
Waste management Chichester
RJS Waste Management UK is a licenced waste carrier based in Chichester that specialises in hazardous waste collection and disposal. Our head office is located near the south coast and offers easy accessibility to the entire south of England. This means we are perfectly positioned to provide safe and efficient waste management in West Sussex area and the surrounding counties – East Sussex, Hampshire, Surrey and Dorset.
While we are experts in the removal of toxic waste and hazardous materials –such as paints, chemicals and fluorescent tubes – we also collect WEEE for safe and secure recycling. Our waste management team carries out site clearances, which includes the clearance of fly-tipping, too. We offer competitive rates to both commercial and domestic Chichester customers while ensuring that HSE level health and safety standards are maintained.
RJS Waste Management Chichester's core services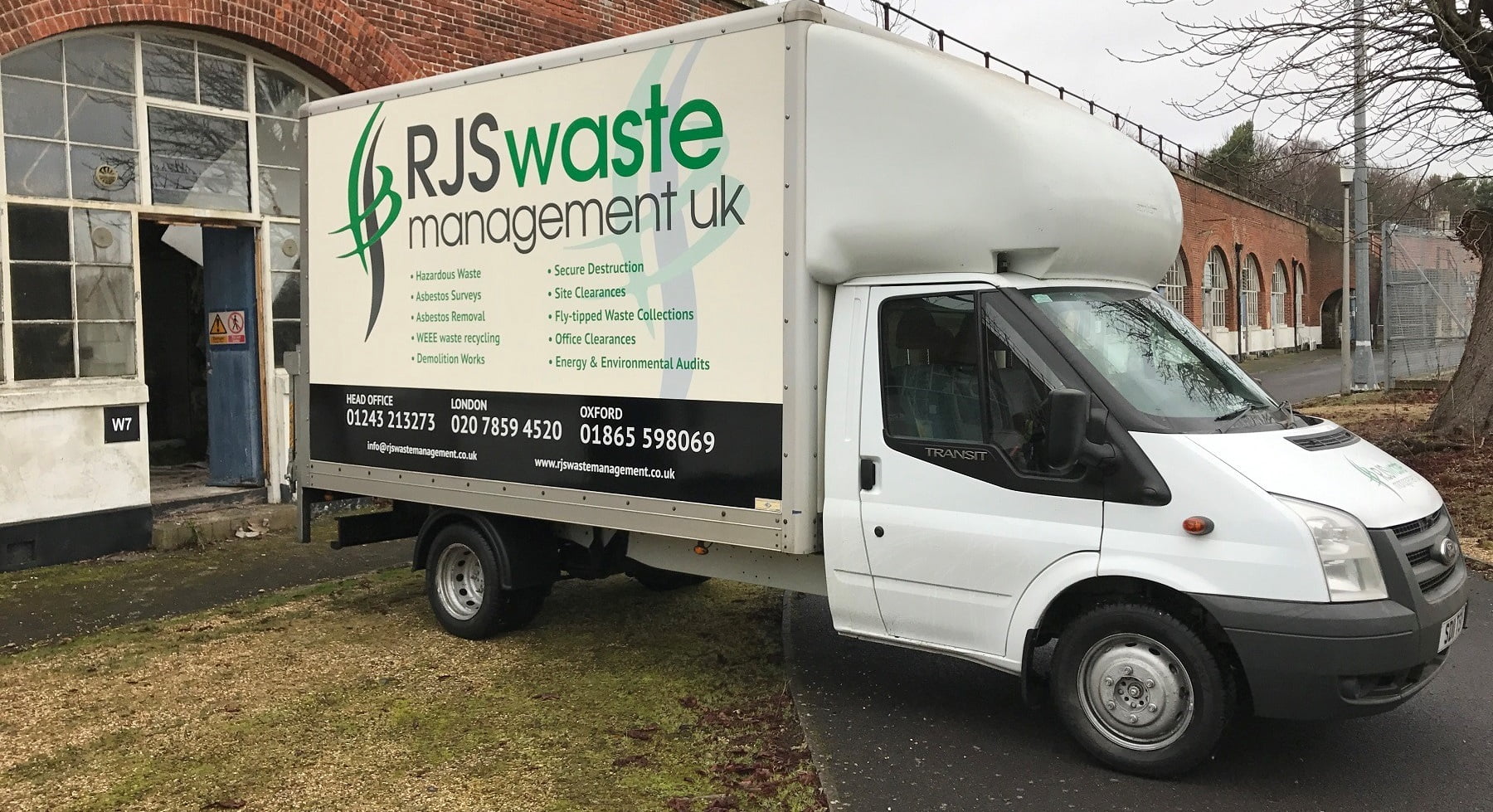 "We engaged the services of RJS Waste Management to assist us after a tenant vacated without carrying out the necessary dilapidation works. RJS were able to assist us with the labour and disposal of various wastes, including asbestos.
"I dealt with a number of the RJS team and all were incredibly helpful and professional. They performed the duties around our existing operations and you would hardly have realised they were on-site.
"I wouldn't hesitate to recommend RJS Waste Management Ltd." – Operations Manager, Alpha Laboratories Limited.
 Client Testimonials
September 2020

"A real pleasure to work with RJS Waste Management group. Jon and his team provided an excellent service and carried out their asbestos removal work in a diligent and professional manner considerate of us always. RJS Waste went the extra mile to make sure everything was exactly as we wanted it. Highly recommended!"
Chichester Area Office
RJS Waste Management UK
Mathis House
Leigh Road
Chichester
PO19 8TT