Need bat or bird guano removal for your property?
Whether your concerns are bird guano health risks or the damage bats are causing to your metalworks, we provide bat guano removal and bird guano removal with DEFRA and Natural England permissions. 
We'll Clean Up When Nature Calls With Our Guano Removal Services
Though we love wildlife here at RJS Waste Management UK, we know that guano from bats and birds can cause real issues for building managers and property owners alike. Not only are they an eyesore but they can have health and safety implications and must be removed with care.
Whether your domestic or commercial building suffers random soiling to its exterior or guano exists in large quantities inside the property, our bat and bird guano removal services could be just what you need.
Why remove bat and bird guano?
Bats can be found sheltering in many buildings, especially in cracks behind tiles and boarding or in roof spaces. Often, pigeons will exploit a slipped roof tile to gain access to a roof void and, if there is no access from within the property, the birds may roost and breed unnoticed for several years. While gulls can usually be found perched atop roofs or chimney pots from which they look out for feeding opportunities. And where there are bats and birds there is guano…
The two most common causes of bird soiling to buildings are:
Overnight/breeding roosts
Daytime perches
Overnight roosting usually results in much larger quantities of bird droppings being present than daytime perching. Roosting birds are static for 8-16 hours a day and their soiling is found in deeper piles directly beneath their roosting spot.
But perched birds will use a building as a vantage point to exploit food sources during the day and so tend to move around more, checking other feeding sites and staying wary of predators. This means guano from perched birds is more random and spread over a larger area.
Bats, on the other hand, hibernate in the winter so are dormant from November until March at the earliest. During this time, they only wake to excrete occasionally. Once active, they roost during the day and leave their colony at around sunset. Between dusk and dawn, they tend to fly around for two-five hours at a time. So, they spend longer periods at roost sites than their feathered friends.
You might have installed bird deterrents, such as spikes or netting, to the outside of your building or had a flock of pigeons removed from inside your building, but their excrement might still be causing you issues. Likewise, bats as a protected species in the UK, might be creating a foul problem at your property that is not easily dealt with. These might include:
Permanent damage to building materials e.g. etched polished surfaces, stained porous stone and corroded metals
Ruined aesthetics
Unpleasant smells
Attraction of insects and further pests
Possible health risks
Bat and bird guano health risks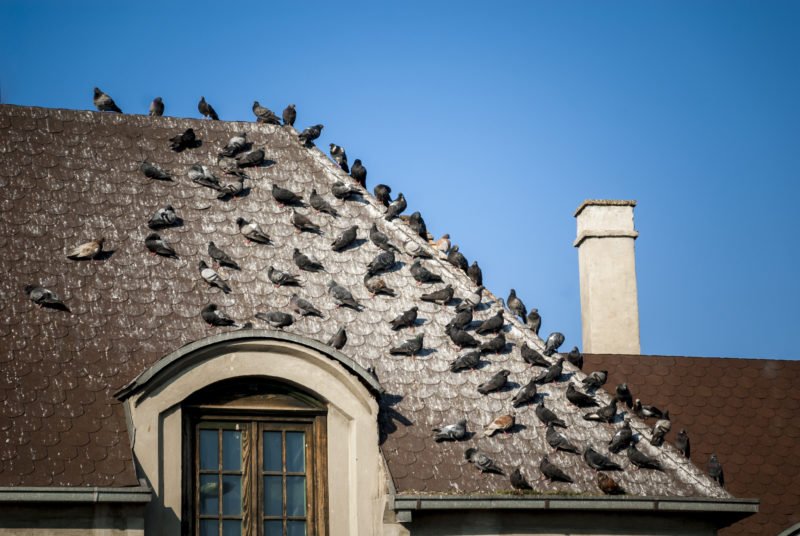 Safe bat and bird guano removal in the UK 
In most circumstances, guano removal and disposal can be carried out by the property owner. Common sense combined with a basic health and safety risk assessment is all that is required before undertaking most cleaning operations.
But there will be instances where the scale of the problem is beyond the capability of an individual and, in these circumstances, the RJS Waste Management team would be happy to help. We are usually called in for the clearance of guano in large-scale roosts that have been used for many years. For these jobs, where there are large quantities of well-dried guano, specialist clothing, equipment and experience is necessary.
Guano removal services process and techniques
Whether guano is gathering at a perch site or roost site, in the first instance we will need to carry out an inspection to ascertain whether it is a current bird breeding area or a bat roost.
It is an offence to interfere with a bird nest or its contents and permission is needed from the Department of the Environment, Food and Rural Affairs (DEFRA) for its removal. A wildlife rehabilitator may need to be contacted too.
As a European protected species, bats as well as their resting places and breeding sites are also protected by law. It may be possible to get a licence from Natural England if disturbance cannot be avoided during bat poo removal.
Once we know we can proceed with the removal, we would then carry out the following preparations:
Health and safety risk assessment, especially if areas to be cleaned involve working at height
Prepare appropriate protective clothing and equipment, such as Respiratory Protective Equipment (RPE)
Write a site-specific method statement and/or plan of works
Where necessary and within the law, remove birds/bats
Where possible, block entry and exit points
Install plastic sheeting to avoid the spread of any contamination
Bird and bat guano removal techniques include the following:
Dampening down dried guano to make removal safer and easier
Removal using a paint scraper and/or hot and soapy disinfected water with a scrubbing brush
Bagging up the waste and disposing of it at a registered facility, for which all documentation will be provided
Bird deterrents installed as soon as the surface is clean and dry
With our efficient guano removal services, we are here to clean up when nature calls! Please get in touch for more information or for a no-obligation quotation.