Managing Waste Electrical and Electronic Equipment (WEEE)
RJS Waste Management will take care of your WEEE recycling strategies and provide effective collection, storage and disposal procedures with full WEEE compliance.
WEEE Collection, Recycling and Destruction Services
RJS Waste Management UK will work with you to develop a Waste Electrical and Electronic Equipment (WEEE) recycling strategy suited to your organisation. Whether you are just starting out in business, you are moving to a new location or you are planning an office clearance, we offer the professional and compliant WEEE waste services you need.
Using our expert hazardous waste knowledge, we can conduct a site audit and relevant information will be used to set out your WEEE collection and WEEE disposal procedures. On the day of collection, we will provide you with a duty of care transfer note and a hazardous waste consignment note.
What is WEEE?
Each year in the UK, there is around 2 million tonnes of Waste Electrical and Electronic Equipment. These come from businesses and households and include most products with a plug or battery as a power source, such as:
IT and telecoms equipment – CRT monitors, laptops, hard drives, keyboards, disk drives, servers, cables, motherboards, smartphones, tablets, printers, photocopiers and telephones
Household and office appliances – fridges, freezers, washing machines, microwaves, dishwashers, vacuum cleaners, clocks, toasters, electric fans, electric radiators, hot drinks dispensers and air conditioning appliances
Consumer equipment – televisions, DVD players, radios and musical instruments
Electronic and electrical tools – drills, sewing machines and lawnmowers
Monitoring and control equipment – smoke detectors and heating regulators
Lighting – fluorescent lighting, tubes and bulbs
Toys and leisure equipment – games consoles, electric trains and running machines
Medical devices – medical freezers, cardiology equipment and dialysis machines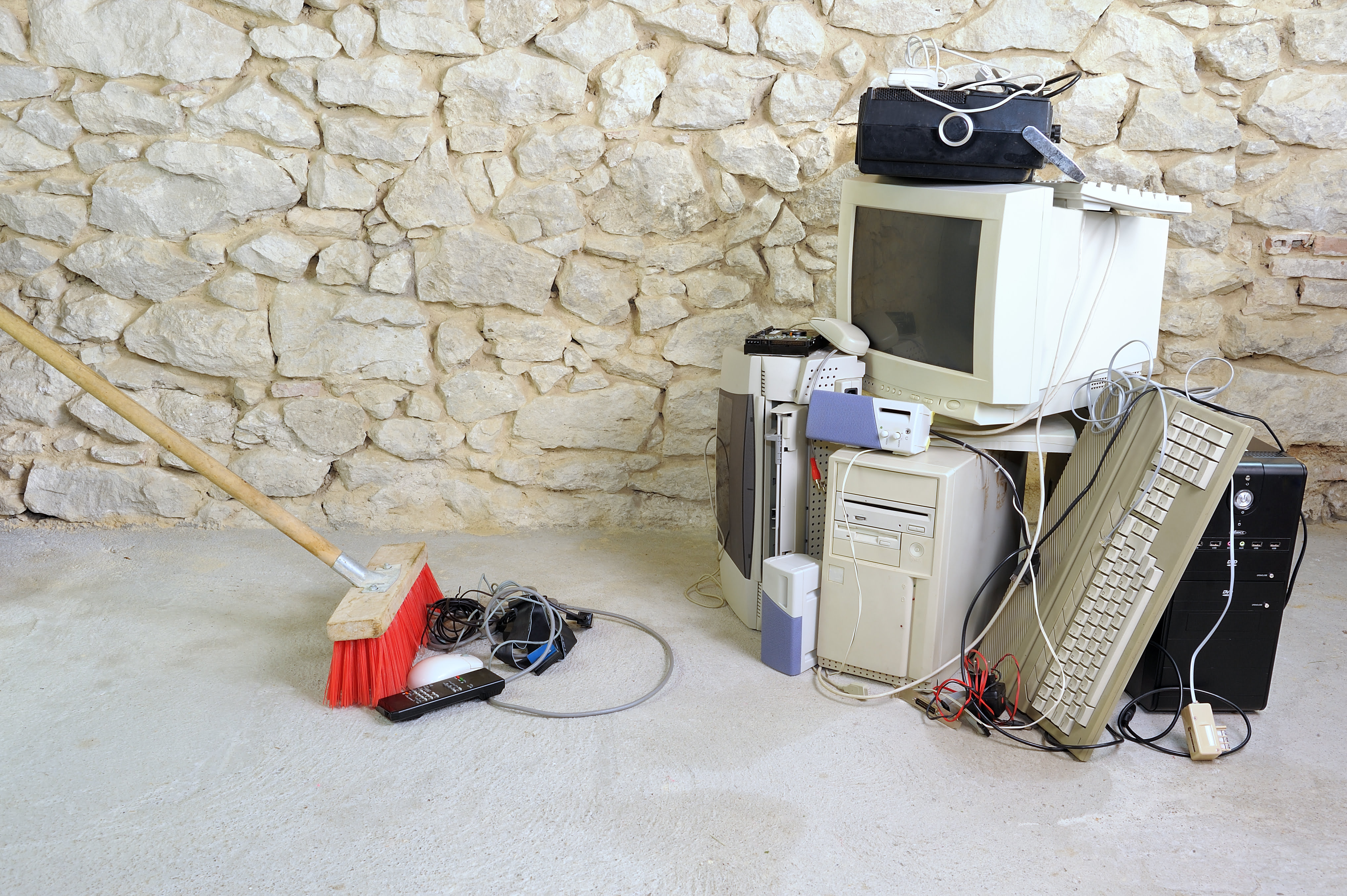 During processing, WEEE is usually made up of different materials such as metals and glass and chemicals like mercury, lead and phosphorous. According to the Health and Safety Executive: "As a result of this complex mix of product types and materials, some of which are hazardous (including arsenic, cadmium, lead and mercury and certain flame retardants) WEEE recycling poses a number of health risks that need to be adequately managed".
RJS Waste Management is committed to recycling WEEE waste wherever possible and can handle the equipment mentioned above and more. You can find more examples of WEEE waste on the HSE website here.

WEEE and data Security
In line with the Data Protection Act, the correct recycling or disposal of redundant IT equipment, and the sensitive information that a hard drive may hold, is a concern for every business. We will provide a data destruction certificate for any hard drives that are collected. We can even offer a premium "witness the burn" service, should your industry require proof of safe data destruction. You can find out more about our data destruction services here.
Increasing levels of WEEE
WEEE is in the top five growing waste streams within the UK. WEEE disposal is set to rise substantially within the next decade due to:
Higher consumer demand

Advances in technology

Lower priced products