Fluorescent light recycling services from a licenced waste carrier
Whether you are working on a construction project or at offices across the UK, RJS Waste Management can help with your WEEE recycling needs. 
The recycling of fluorescent tubes and bulbs is required by law and we provide a safe and secure service.
Let us Deal With Your Fluorescent Light Recycling
With over 100 million fluorescent lamps used in the UK each year, there is more need than ever to think about your fluorescent light recycling strategy. A popular lighting choice for commercial and industrial sectors, fluorescent lighting tubes and bulbs can account for more than 3000 tonnes of waste materials that end up in landfill sites.
Classed as Waste Electrical and Electronic Equipment (WEEE), fluorescent lamps are just one of the many electrical items that RJS Waste Management collects and recycles in West Sussex, Oxfordshire and London.
Why is fluorescent light recycling important?
Did you know that fluorescent lighting tubes and gas discharge lamps contain mercury? This makes them hazardous waste. While each lamp contains just a small amount of the naturally occurring toxic chemical, this could contaminate 30,000 litres of water and make it unsafe for consumption.
And the more mercury that ends up in landfill, or fly-tipped, the more risk there is to public health and the environment. However, according to the Health and Safety Executive, the use of mercury in electrical equipment was banned in 2006 and is becoming far less common.
Your responsibilities regarding fluorescent lighting
It is important that fluorescent lighting tubes and bulbs are stored and handled properly to minimise exposure to mercury dust and vapour. Older lamps may also contain other damaging metals such as copper, aluminium, barium and cadmium compounds. Careful storage of fluorescent lighting includes to:
Mark lamps as waste in weatherproof containers
Pack tubes neatly and to minimise movement and breakage
Keep storage room temperatures low
 Fluorescent light disposal regulations
WEEE regulations state that is illegal to dispose of fluorescent lamps, bulbs and tubing at landfill sites. The eco-friendly waste management option is fluorescent light recycling. This includes the extraction of the glass and metal components. The elemental mercury is then distilled so that the lamps can be reused safely.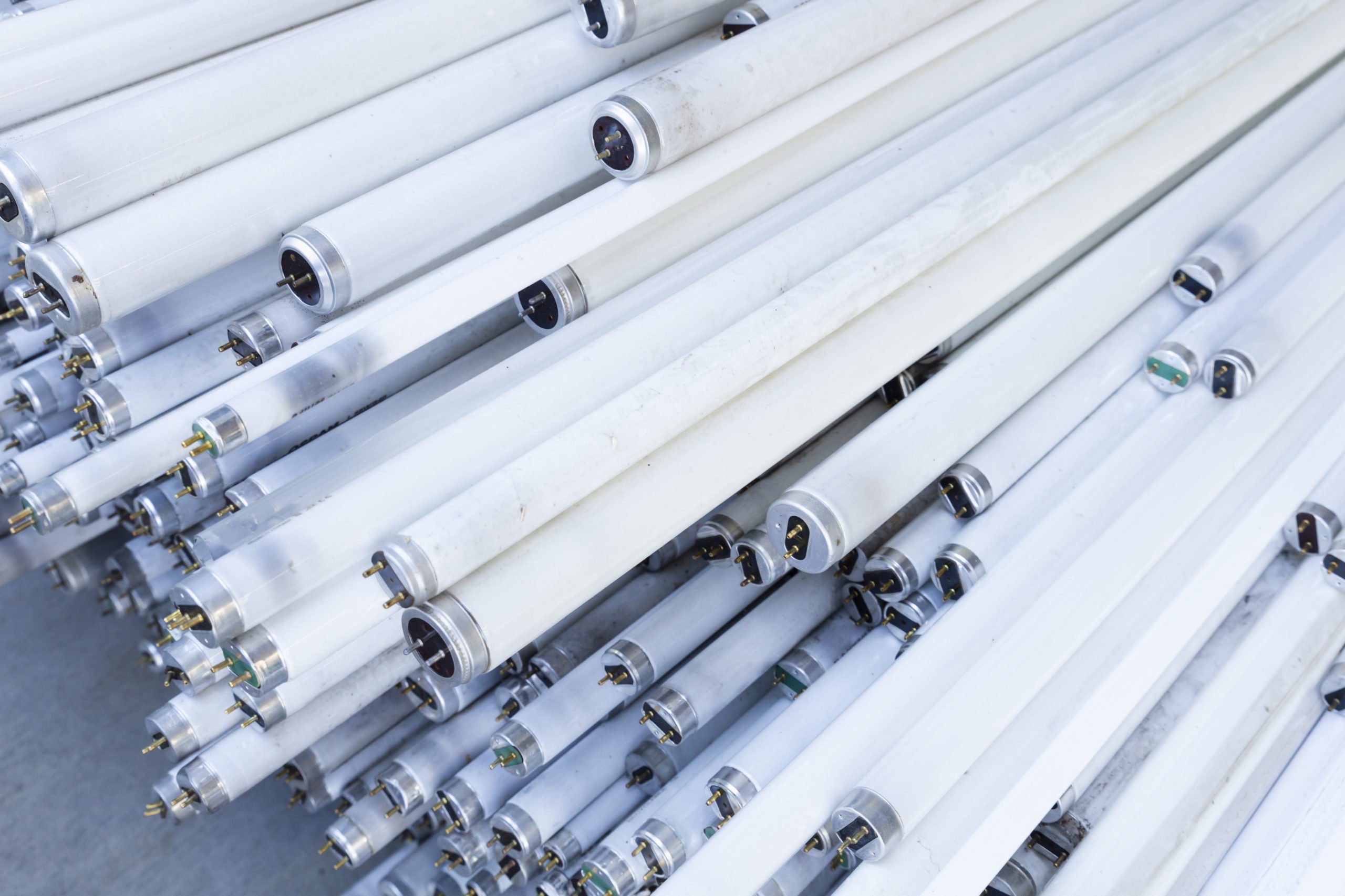 Fluorescent bulb and tube recycling UK
As WEEE recycling experts, RJS Waste Management can collect and transport your waste electrical goods and arrange for fluorescent tube and bulb recycling at a specialist UK site. Whether you need bulk fluorescent lamp recycling for a site clearance or demolition job or on-site storage containers and a regular WEEE recycling strategy for your offices, we are here to help.
As an experienced waste management team with more than 60 years' experience between us, a waste carrier's licence and full insurance for all fluorescent light recycling jobs, you are in safe hands with RJS Waste. We will provide all the relevant waste transfer documentation and, where required, we can also provide recycling certificates for each batch.