Demolition, soft stripping and site clearances
RJS Waste Management provides the full demolition package throughout southeast England.
We'll Safely and Efficiently Clear and Strip Your Space for Demolition
RJS Waste Management UK are the experts when it comes to demolition work – from site clearances to soft stripping to pulling down buildings. Our team's combined 60+ years' experience dealing with demolition projects throughout the southeast, and the hazardous waste management requirements they bring, should make us your first port of call.
What is demolition?
Also known as wrecking, dismantling and razing, demolition is the act of pulling down a building or structure. For smaller buildings, like houses, safe and efficient demolition will require manual labour or mechanical hydraulics such as cranes, elevated working platforms and excavators. While for larger building demolitions a wrecking ball might be used to break up the masonry. Rotational hydraulic shears and silenced rock-breakers attached to excavators may also be required to cut through wood, steel, and concrete.
 Soft stripping
Often carried out before demolition, a soft strip will leave just the shell of a building. Everything from walls and ceilings to fixtures and fittings will be removed. After the necessary surveys, we will determine the best soft stripping techniques to get your site demolition ready. Read more about soft strip demolition.
 Site clearances
A site clearance could be useful to remove rubble and debris such as construction waste and asbestos-containing materials – as well as any hazardous waste – that has been left on-site from your planned area of demolition. This will help make the demolition work easier and safer to carry out. Read more about site clearances.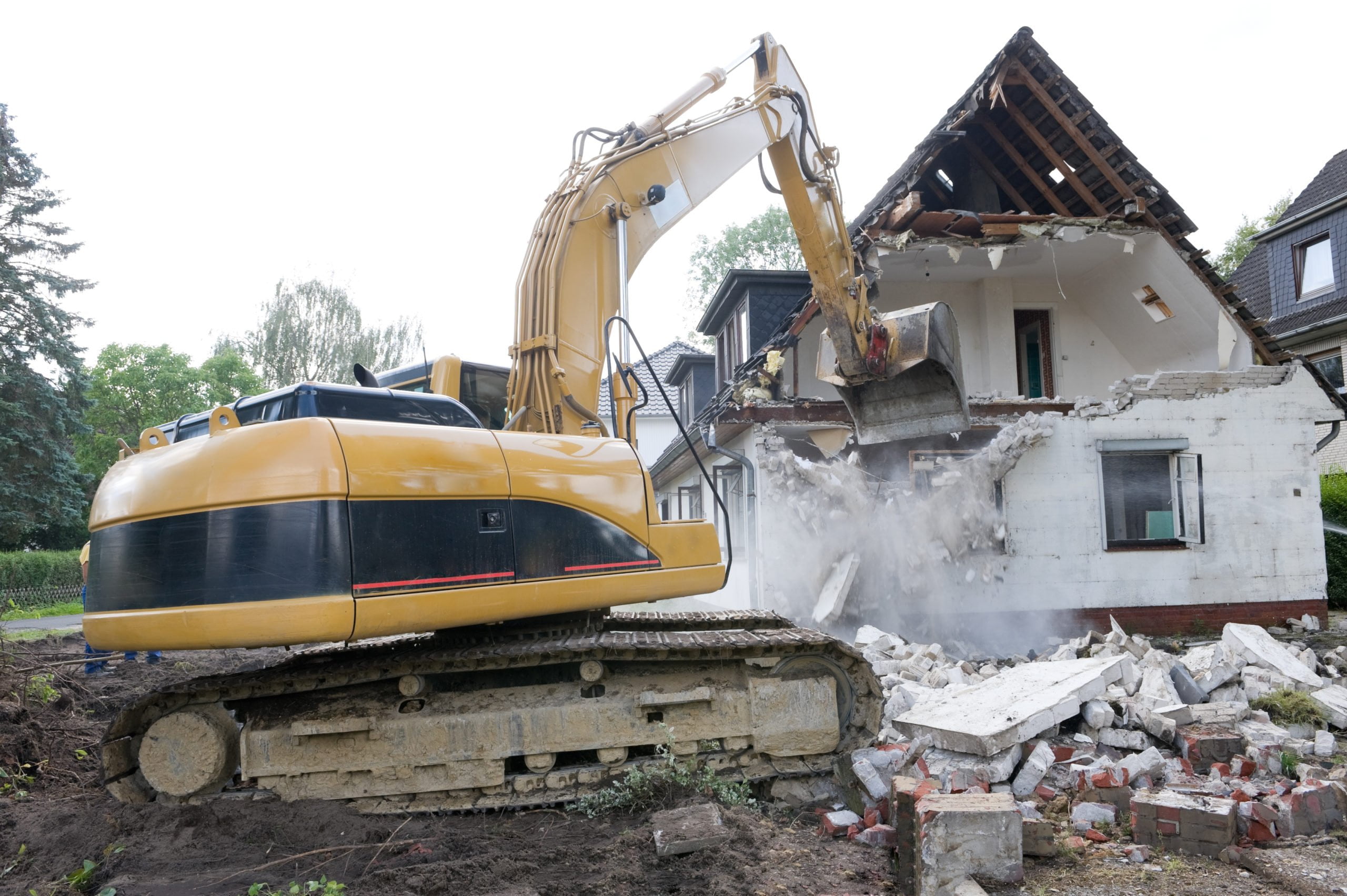 Safe work procedure for demolitions
As well as involving many of the risks already associated with construction, the unknowns that occur with demolition work add an extra layer of hazard. According to the Health and Safety Executive:
"The law says that all demolition, dismantling and structural alteration must be carefully planned and carried out in a way that prevents danger by practitioners with the relevant skills, knowledge and experience".
Falls from height are a demolition hazard that we at RJS Waste Management address in our Working at Height course. As such, our demolition team is skilled in avoiding, preventing and mitigating work from height accidents.
The RJS team are also the experts when it comes to working with hazardous materials. Before undertaking any demolition work, Our British Occupational Hygiene Society (BOHS) P402 certified surveyors will carry out a refurbishment and demolition survey. Should any hazardous materials be identified, they will be removed and disposed of by us as licenced waste carriers.