Asbestos surveys and asbestos testing throughout the UK
RJS Waste Management offers asbestos surveys in London, Oxford and Chichester – carried out by BOHS P402 certified surveyors. 
Asbestos Management Surveys, Asbestos Reinspection Surveys and Refurbishment and Demolition Surveys
RJS Waste Management UK is skilled and experienced in the handling of asbestos contaminated waste. From our head office in Chichester, West Sussex – and our regional offices in Oxfordshire and London – we provide asbestos surveys throughout the UK.
All non-domestic premises, such as shops, offices, and factories built before the year 2000, are legally bound to maintain an asbestos register. This follows the Control of Asbestos Regulations (CAR) 2012, which stipulates that those responsible for the maintenance of such buildings have a legal "duty to manage".
If asbestos is present, or is suspected as present, in such buildings then it must be dealt with appropriately. This is to protect employees, contracted workers and visitors to the premises from the risks of contact with asbestos.
Our British Occupational Hygiene Society (BOHS) P402 certified surveyors carry out asbestos surveys in accordance with HSG264 Asbestos: The Survey Guide (2012) and HSG248 Asbestos: The Analysts' Guide for Sampling, Analysis and Clearance Procedures.
RJS Waste Management will guide you to ensure your asbestos management plan is up to date. We will also make sure your business and premises are compliant with British standards, so you meet your health and safety obligations.

Asbestos survey types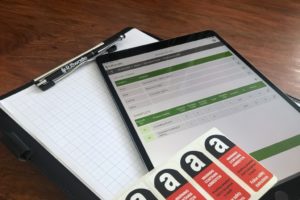 RJS Waste Management offers the following asbestos survey types:
Asbestos management surveys
Asbestos reinspection surveys
Refurbishment and demolition surveys
All building refurbishments, alterations and demolition projects require an asbestos management survey and a refurbishment and demolition survey to be carried out by appropriately qualified surveyors. We also carry out asbestos reinspection surveys as required.
Asbestos management surveys
Asbestos management surveys aim to provide information on whether asbestos is present and will outline its condition and appropriate management. That is, the risk any asbestos may pose and whether it could be disturbed during normal occupation or maintenance.
They usually involve sampling and analysis of each type of suspected Asbestos Contaminated Material (ACM). But these works are not as intrusive as a refurbishment and demolition survey.
Asbestos reinspection surveys
After an asbestos management survey, to continue the review of any ACMs found, an asbestos reinspection survey should be carried out every 12 months.
The information can then be used to keep the asbestos register up to date. The asbestos register must also be reviewed annually to take account of any changes and to ensure the continued safe management of any ACMs identified during the survey.
Refurbishment and demolition surveys
Used to find and describe ACMs in the entire area where refurbishment or demolition works will take place, the refurbishment and demolition survey is more intrusive and may involve destructive inspection to access all areas.
Under CAR 2012 (regulation 7), all ACMs should be removed as far as possible before major refurbishments, some smaller refurbishments and final demolition. The asbestos survey report should be supplied to designers and contractors who may be bidding for the work, so that the asbestos risks can be addressed.

Asbestos testing process
The results of all our asbestos surveys are sent for analysis at an independent United Kingdom Accreditation Service (UKAS)-accredited laboratory.
The asbestos survey report will provide recommendations for the management of any identified ACMs. This might include labelling, safe asbestos containment and/or asbestos removal. The report can then be used to update the asbestos register.
If you are responsible for the maintenance and repair for non-domestic premises, then your organisation will be bound by Regulation 4 of the CAR 2012. This means you will have a legal duty to manage the risk posed by any asbestos that has been identified in an asbestos survey.
The CAR 2012 covers only non-domestic premises – such as commercial, retail or industrial sites like factories, warehouses, offices, hospitals and educational establishments. However, you may have a similar duty under the health and safety at work regulations if you are responsible for premises, such as flats, with communal areas like foyers, hallways and stairways.
A more exhaustive list of premises and areas that are covered by a duty to manage can be found on the HSE website.